ICT Hype and ICT Realities
Text of a presentation by Nalaka Gunawardene Director/CEO, TVE Asia Pacific www.tveap.org
At International Workshop on Building a Common Path: Beyond WSIS Organised by Sarvodaya www.sarvodaya.org Supported by IDRC, Canada www.idrc.ca
Colombo, Sri Lanka: 24 Feb 2006
I thank Sarvodaya for giving me this opportunity to join this meeting.
It's easy for us to engage in self-congratulatory talk and mutual compliments at gatherings like this. I appreciate the like-mindedness and admire what you do in your organistions, countries and spheres of activity.
But I've seen how too much of a consensus does more harm than good, so I'm going to offer some views that stand apart from everything we've heard so far. As a rule, I don't engage in uncritical cheer-leading. In the few circles I move, I'm the professional skeptic, asking difficult questions that ought to be confronted.
Today, I would like to pose a series of such questions to you:
Are ICTs in the mainstream of public life and public affairs in Sri Lanka? If not, why?

Are ICT4D

1

initiatives merely tinkering at the periphery?

Why is there such a string of failures when taking modern ICTs to the grassroots?

Why is public trust and confidence in ICTs still very low?

Where are the champions of ICT when we need them most?

How can we be more smart and strategic in what we do?
Being also a professional story teller, let me begin with a little story that my Sri Lankan colleagues already know. It takes us back to the time when we were ruled by kings, and concerns jaggery --a delicious sugar substitute we make from the sap of the coconut palm .2
The King of Lanka one day wanted to know how jaggery was made. So he sent for the official jaggery supplier to the Palace, who claimed that it was produced under the most hygienic conditions by people who had mastered the technique for
2 Information and Communication Technologies for Development
http://en.wikipedia.org/wiki/Jaggery
decades. Unlike today's rulers, however, the king didn't believe everything he was told. He decided to go in disguise and investigate. Just as well he did, because the reality was completely different. The king found his jaggery being made in a rickety old shack, which had more than its fair share of house flies, with none of the hygienic conditions. The jaggery maker and his sons were sweating and toiling.
A very angry king revealed who he was, and demanded an explanation. Pat came the reply: "That's the hype, Your Majesty, and this is the reality!"
The gulf between the ICT hype and reality can often be as wide and shocking.
ICTs in the dock: Example 1
Irrespective of ethnic, economic, social or other divisions, there are at least three things that all Sri Lankans would be outraged if anyone meddles with them. These are:
Our education system and public examinations in particular

Our Multi-party electoral process (we have so many elections!)

Sri Lankan Cricket Team (which offers what I call the national religion)
Anyone or anything that affects these three will risk national ire -- as certain Australian cricket umpires know all too well…
As we speak, modern ICTs stand accused of interfering with two of these national institutions. And that's not something to be taken lightly.
Let me summarise the two situations using extracts from the public media.
• "Now we know in this country, it is wrong to say 'IT is your future'. It should perhaps be correct to say 'IT can ruin your future'. The future of thousands of school children was almost ruined…"
-Editorial, The Island newspaper www.island.lk, 17 Feb 2006
The controversy, which erupted in January 2006, surrounds the marking of papers in the GCE Advanced Level examination. Every mark counts in this highly competitive exam as we have too many students and too few places in public universities.
You can imagine the furore when it was found out that an optical mark reading (OMR) machine used for marking multiple choice answer scripts had malfunctioned. The US-made, Indian supplied machine had been in use for over six years. Its performance had become increasingly erratic, which was later attributed to frequent power failures at the Department of Examinations – sometimes as frequently as 10 times a day. Apparently no one thought of using a simple UPS, and by the time the marking anomalies were spotted (or acknowledged), 2005 exam results had already been announced. An attempt to recall the results, and manually re-correct the answer scripts had thousands of students and parents shocked and outraged.
The 'exam scandal' not only seriously undermined the credibility of the entire public exam system, but also caused much damage to the public perception of IT and ICT. Many affected students, parents and editorialists demanded to know why machines were used in the first place. The debate assumed Luddite undertones, with some calling for a complete return to manual processes and doing away with 'new fangled gadgets'. Some even named the OMR the 'demon machine'.
While all this was happening over several weeks, I didn't see any of our ICT champions entering the debate. The government's ICT Agency was conspicuous by its absence – perhaps it was too busy setting up little 'bathing shops'3 across the countryside …
ICTs in the dock: Example 2
As it turned out, they were too busy getting our Parliament online. Therein hangs another interesting tale – my second example.
• "The new Sri Lanka Parliament website launched last Friday with much fanfare by Prime Minister Ratnasiri Wickremanayake is incomplete and full of spelling and grammatical errors.…it failed to provide the basic details of the 225 Parliamentarians."
-The Sunday Times, 19 Feb 2006 www.sundaytimes.lk
First, here's the hype extracted from the very website:
• "The development of the new website for Parliament was sponsored by the Information and Communication Technology Agency of Sri Lanka through its e-Sri Lanka Project launched with the assistance of the World Bank. The construction of the website was undertaken by Affno (Pvt) Ltd under the guidance of a Committee headed by Mr. Dhammika Dasanayake, Deputy Secretary General of Parliament, comprising technical experts from Parliament, ICTA and Affno."4
When we studied the new website of our legislature, it quickly became apparent that spelling and grammatical errors were not the main problem. The Sunday Times had, in fact, missed out the more glaring and unforgivable omissions that were discovered earlier this week (website as accessed on 21 Feb 2006):
• The entire website is only in English, whereas the national languages policy in Sri Lanka requires government to use Sinhala and Tamil languages.
• More to the point, most Parliamentarians engage in their work – and debates in Sinhala and Tamil. Yet these languages are completely ignored.
3 Earlier called Vishwa Gnana Kendras or universal knowledge centres, the government-sponsored rural telecentres were renamed 'Nena Sala' (literally wisdom shop -- pure Sinhala as opposed to Sanskrit) in keeping with the nationalist agenda of the current government. Unfortunately, the ICTA mis-spells it as 'Nana Sala', which literally translates as 'bathing shop'. This minor mix-up is the least worrying aspect of the government telecentre programme, which has conceptual and design flaws.4 http://www.parliament.lk/news/ViewNews.do?recID= NWS1002
The website offers a list of 225 current Members of Parliament (MPs). Yet, the Leader of the Opposition (an MP since 1977 and himself a former Prime Minister) is not listed anywhere. The irony is that he is the architect of the e-Sri Lanka project and the creator of ICTA!

5

We also found that other key opposition MPs are not included in either the directory or biography sections about MPs. Among them is Dr G L Peiris, former Constitutional Affairs Minister and one-time leader of government peace talks team.
Well, let's not attribute to maleficence what can be explained by simple incompetence! But once again, this will not inspire much public confidence in ICTs. In fact, it will reinforce prevailing myths and misconceptions about the Internet that sections of the Sri Lankan society harbour.
Government online? Give me a break!
When we hear of these struggles to place the legislature online, it does not inspire any confidenc e in ambitious programmes for e-government.
Sri Lanka was the first country in South Asia to have unrestricted, commercial Internet connectivity (April 1995). Yet our public sector was totally unprepared to engage the new medium. It took a few years for agencies of the government to take even the first faltering steps in that direction, and a decade later things haven't progressed very much beyond placing information brochures and government forms online.
And a majority of government websites are still available only in English, notwithstanding the fact that a Sinhala nationalist government is now in office.
Writing the Sri Lanka chapter in the Digital Review of Asia Pacific (2005/2006 edition), I commented almost two years ago: "In spite of the ICT road map recognising e-government as a priority area, not a single government agency or department offered the option of completing an entire transaction online as at May 2004. None of the statutory dues to the government could be paid online."
As far as I know, this still hasn't changed – even though massive amounts of donor money are being spent on re-engineering government to engage ICTs. E-government is only an aspiration, not a practical reality in Sri Lanka.
You can't get there from here…
Since most of your work is in connecting the grassroots, you might wonder what all these macro level concerns have to do with it. That's precisely my argument.
We can't effectively progress in ICT4D when public acceptance of ICT is not yet established. Our work doesn't happen in a social vacuum.
5 http://www.parliament.lk/directory_of_members/ListMembers.do?fLetter=W accessed on 21 Feb 2006. Int erestingly, the glaring omission was rectified a few days later!
Tinkering with a few 'pilots' at the periphery is not going to mainstream ICTs in society. If we want real impact, we simply have to be smarter and more strategic.
Let's never lose sight of the fact that ICT4D is a subset within ICTs in society, as seen in this simple diagram.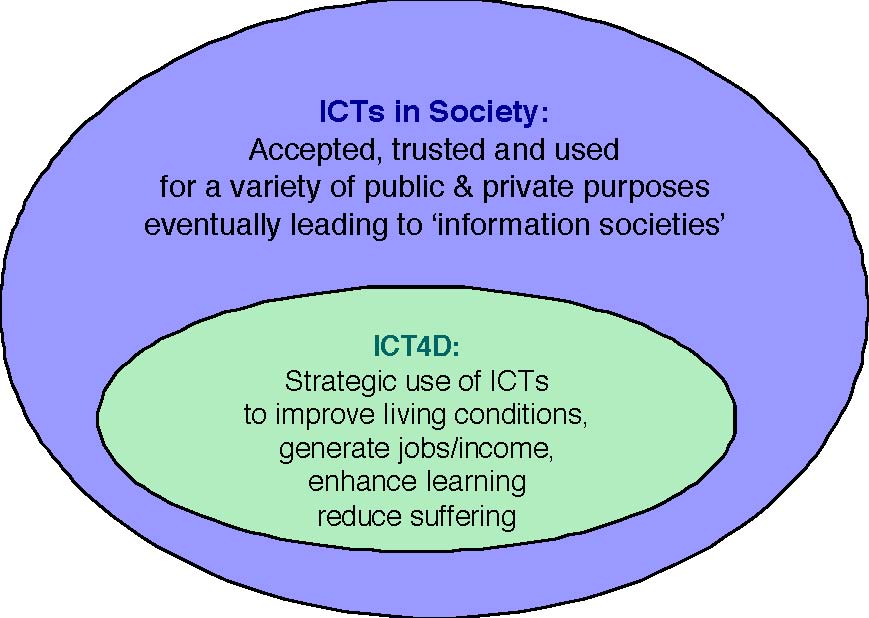 ICTs must earn public trust and respect
No amount of legislation, policy formulation and costly propaganda by the ICTA is going to mainstream ICTs in Sri Lankan society. ICTs must prove their worth and be seen as adding value to living and working conditions of ordinary people.
We can assess the utility and relevance of a new technology or process by asking a few simple questions:
Does the new technology or process: -put more food on their table? -add More money in people's pockets? -make interfacing with govt easier? -save time and effort involved in commuting? -support cultural and personal needs of individuals and groups? -put a smile on users' faces?
Finally, is it affordable, user-friendly and widely available, with minimum entry level barriers?
This can become a simple check list – one we need to run through every few weeks to ensure we are on the right track, just so that we are not distracted by our own hype.
Desperately looking for ICT4D successes in Sri Lanka…
Indeed, there's a real danger that we might lull ourselves into believing that we are addressing the vast unmet needs through our nice little 'pilots' scattered in a few places in each of our countries. That's certainly the case here in Sri Lanka.
And it's not just a personal view. In 2003/2004, the UNDP Asia Pacific Development Information Programme (UNDP-APDIP) supported a nine-country Asia Pacific study6 to find out how ICTs are contributing to human development.7 With two colleagues, I surveyed for instances of any ICT tool that has had direct and discernible impact on the poor in Sri Lanka. We could find no initiative that can be considered successful --except in artificial conditions created by disproportionately high donor funding and external technical support to sustain them. (Sarvodaya's rural telecentre programme was in its early stages at the time.)
After looking at various governmental, civil society and university projects – none of which will withstand real world conditions for more than a few months -- the single 'winner' from Sri Lanka that we found was the mobile phone. This market-driven phenomenon stood out amidst many donor-driven projects that had either collapsed or never taken off.
The mobile phone in Sri Lanka today truly cuts across social, class and economic divides. From being an expensive, elitist tool when it was first introduced in 1989, it has become a tool that ordinary people can afford and use for a wide range of purposes – putting more food on their plates, money in their pockets and a smile on their faces. Breaking up of the initial monopoly and having good telecom regulation have certainly helped to bring down costs.
Isn't it interesting that not a single development donor has directly invested in this particular ICT? Few people have so far studied mobile phones as a social, cultural and economic phenomenon. When we do study – as LIRNEasia has recently done in India and Sri Lanka8 – some very interesting findings come up.
There are now a large number of other 'small-is-beautiful' type ICT4D initiatives across Africa, Asia Pacific and Latin America. The tele-centre fever currently sweeping the developing world is only the latest wave. Tax payers in the North keep these numerous projects on life support, believing the hype that they really help the poor. But do they, really? I remain to be convinced.
If some people want to believe in myths, that's a personal choice. But such projects --like Sri Lanka's much-touted Kotmale Internet browsing by radio -- do great harm by distracting funding agencies, distorting investment priorities and creating an illusion of accomplishment. Murali Shanmugavelan, a researcher with Panos London, calls these initiatives 'donor mistresses'.
6 http://www.apdip.net/projects/rhdr/
7
Other countries covered by this study were: China, India, Indonesia, Malaysia, Mongolia, Pakistan, Thailand and Vietnam.
8
http://www.lirneasia.net/projects/strategies-of-the-poor-telephone-usage/
I personally call them 'picture postcard opportunities' for roving development workers. For sure, there is a seductive allure in images of school children playing with a computer, a Buddhist monk using a mobile phone, or tribal people trying out a palm-top. They make us believe that we are fixing the world's ills with geeky gadgets – when, in fact, we are merely tinkering in the periphery.
And all the while, the fundamental constraints keep our societies digitally divided. For Sri Lanka, these bottlenecks include:
the high capital and operating costs;

lack of adequate infrastructure;

absence of enabling policies and laws; and

failure to produce standardised local language fonts and locally relevant content.
Unless and until these are addressed meaningfully, there cannot be much meaningful ICT4D .
Public acceptance of ICT vital
I keep returning to my original premise: for any ICT4D to succeed, IT and ICTs need to win public trust, confidence and acceptance.
There is a whole body of research work that looks at the sociology and social-anthropology of how new technologies are accepted and assimilated into societies. A key component within that is public communication of science and technology (sometimes abbreviated as PCST), which interests me as a communicator.
We now know that demonstrated economic, social or cultural benefits alone will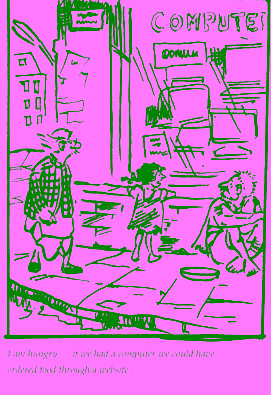 not necessarily secure public acceptance for a new
technology. The process is more complex and prolonged,
and incidents such as the exam scandal I mentioned earlier
can negate years of good work.
The ICT professionals can learn from other sectors where new technologies or processes have been introduced through careful social marketing and promotion. For example:
In water supply and sanitation, the practitioners know that building latrines is only a beginning. There is a whole lot more that needs to be done before people change their behaviour.

In family planning, too, promoters found out long ago that merely making birth control methods readily available was not enough: there was a 'sociology' to be studied, engaged and used.
7
I urge all ICT and ICT4D practitioners to consider the 'sociology' of introducing and promoting new tools of ICT to communities. One reason for Sri Lanka's long string of failures in taking ICTs to the grassroots could be that it has been driven by engineers and technologists who believed, sincerely, that gadgets can fix social disparities and problems. That's how we have ended up with situations like the one in this (first) cartoon – raising unreal expectations that cannot and will not be met.
Public acceptance of new technologies has been studied and documented in great detail. We can sum it up in a few key, progressive steps:
First, people begin to take note of it (there may be suspicions and apprehensions)

Then some people warm up to it – they want to try and see!

When more people use it, and become familiar with it, acceptance begins to take root slowly – and a few 'champions' begin to emerge from within.

•

After years of use, barring serious mishaps, people begin to actually trust it – and trust their children with it!

After some more time, everyone accepts it as part of the socio-cultural landscape -- and no one gives a second thought or second glace…

Finally comes the stage where people clamour for it, and are even willing to pay for it!
In other words, it moves from being supply-driven to demand-driven. Where ICT4D is concerned, we are still at the beginning of this process, with external parties (from the city, or from other countries) driving it with supply. We should aim to progress beyond this.
Meeting the challenges: what can be done?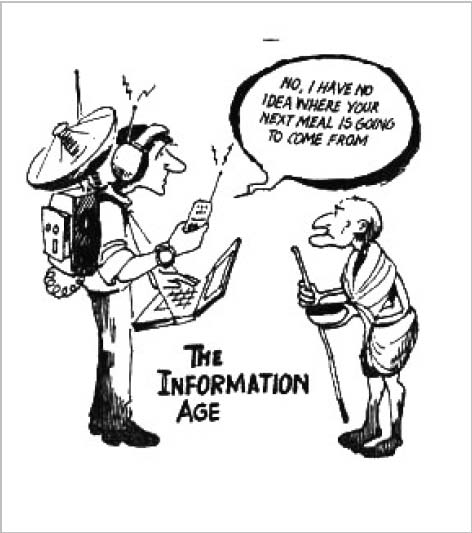 The question that remains is: how do we bell the cat?
Although I ask difficult questions, I don't claim to have all the answers. Here are a few thoughts from having watched ICTs and ICT4D for a decade.
Adopt a 'micro-macro' approach

: By all means, we must continue the extremely worthwhile grassroots micro projects we are doing. But at the same time, some of us who have capacity should address the 'big picture' level bottlenecks, constraints and issues.

Kick the 'pilots' to take off

: It's okay to start pilot projects, as long as we know how and when to phase out and withdraw. Some pilots will never take off due to inherent design flaws. Others may fly only for a short while and crash. Even if just a handful manage to soar on their
8
own power, that would be far better than sustaining 'forever pilots' that distort the scale for everyone else. This is easier said than done: letting pilots go seems as hard for development practitioners to do as it is for some parents to let go of their children!
Get the fundamentals right

: Our pilots can't take off when the 'runway' is cluttered with debris. We need to identify and advocate areas for reform in policy, legislation, tariffs, technology, trade agreements, etc.

Don't sleepwalk

: It's easy to get mesmerized by gadgets, especially in the ICT sector. Let us never lose sight of what we are trying to do. ICTs are only means to an end – to make living and working easier for everyone. If we forget this, we will end up like the young man in the second cartoon – 'armed' to the teeth with ICTs, but unable to answer a basic question.

Strengthen the industry

: Remembering that ICT4D is a sub-set of ICT, we need to create a more vigorous, dynamic ICT industry. Only then will ICT tools, processes, support services and know-how become widely available, affordable and public acceptance begin to consolidate.

Play our niche roles

: Government, industry, academia and civil society each have a niche role to play. There are some factors that only governments or their agencies can adequately address – such as infrastructure, enabling polices and good market regulation. In my view, setting up rural telecentres (or 'bathing shops') is something smart government agencies should refrain from doing when bottleneck macro issues are remain neglected.

Form productive partnerships

: Where it helps and matters, we should certainly work together, complementing each other's strengths. But I'm cautious about partnerships for their own sake, or lop-sided partnerships that remind us of the proverbial marriage between an elephant and a mosquito. Partnerships should be reviewed, assessed and discontinued when they have served their purpose. Partnership should also not blunt the sharpness of our enquiry and debate.

Strategically champion ICTs

: This is perhaps the hardest to get right. We
need credible, articulate, passionate individuals who take a 'big picture' view of ICTs' role in society and economy, and who speak for the ICT sector in public debates and controversies. This is precisely what we in Sri Lanka currently lack.
Think of the eight Cs
The bigger goal is public acceptance of old and new ICTs. Madanmohan Rao, an Indian ICT expert who has authored several books including the Asia Pacific Internet Handbook , has identified eight 'Cs' that shape our region's Internet economy. They are:
connectivity, content, community, commerce, capital, culture, co-operation and capacity.
So there's a great deal more to ICT than simple connectivity. Some of the other 'Cs' cannot be introduced from outside; they have to emerge from within, and it takes time. The presence of eight 'Cs' would be an indication that ICTs are becoming integrated into our societies .
Let me end with the same words that I used to conclude my chapter in Digital Review of Asia Pacific, which remain as valid now as they were written in early 2004:
"Despite a plethora of studies, there still is a crying need for a long, hard and candid appraisal of Sri Lanka's ICT potential and performance. If an inclusive, strategic and coordinated approach is not adopted soon, the island nation will remain one of Asia's most glaring 'might-have-beens'."

Note:
Some of my other recent writing and speeches on related topics can be found online as follows:
• Waiting for 'pilots' to land in Tunis: impressions of WSIS
Published by Islam Online Science and Environment section
http://www.islamonline.net/English/Science/2005/11/article10.shtml
• Poverty of our own analysis: why income poor remain information poor
Remarks made at WSIS Tunis panel to launch Digital Review of Asia Pacific 2005/2006 edition
http://www.tveap.org/news/WSIS%20-%20DRAP%20Panel%20-%2017%20Nov%202005%20-%20Nalaka%20Gunawardene%20remarks.pdf
• ICT for poverty reduction: Think big, act boldly
Commentary reproduced by Bytes for All
http://www.bytesforall.net/ict4poverty_nalaka/view